War gewesen:+++++++++++++++++++++++++++++++++++++++++++++++++++++++++++++++++++++++
08. Dezember 2018, Meerbusch, Pauls Savanne
BAD BRIANS
07. Dezember 2018, Siegen, VEB
BAD BRIANS + RAMÖNSCHE
10. November 2018 Hamburg, Menschenzoo
28.06.2018, Berlin, Cassiopeia
HARD ONS (AUS), BAD BRIANS

22. Juni 2018 Dresden, Rosis Amüsierlokal
BAD BRIANS, RESISTANCE 77

05.Mai 2018 Berlin, Schokoladen
BAD BRIANS

28. April 2018 Potsdam, Nil Club
BAD BRIANS, SCHMACHWANDERUNK, JACKE WIE HOSE

20. Januar 2018, Berlin Franken
BAD BRIANS, JODY

21. Oktober 2017 Potsdam, Nil Club
BAD BRIANS, CHERRY BOMB

01. Juli 2017 Meerbusch, Pauls Savanne
BAD BRIANS, PERIODE 6

11. März 2017 Berlin, Köpi
GHOUL, BAD BRIANS


16. Dezember 2016 Berlin Cortina Bob
BAD BRIANS; GANG GRENE





Jeder nur ein Kreuz! 8 Nummern auf 10" Vinyl (inkl. Download + 1 Bonus Track) auf 300 Stück limitiert, kaufen hier!

22.01. 2016 Abfahrt
BOY (CZ), BAD BRIANS, LAMEBRAINS
14.12. 2015 Berlin, Cassiopeia
G.B.H. + BAD BRIANS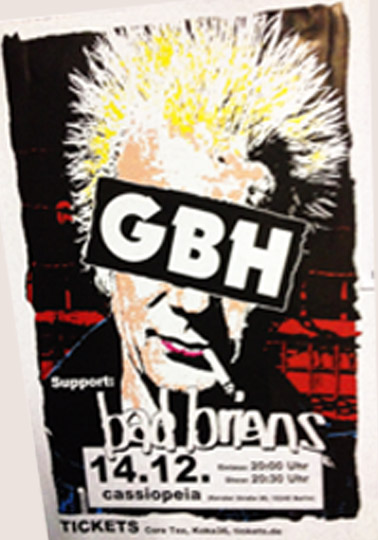 21. November 2015 Lübbenau, Kulturhof
BAD BRIANS + DIE FLEESCHA
20. November Berlin 2015, SO36
DIE SUURBIERS + BAD BRIANS

24. Oktober 2015 Berlin, Köpi
URGENT FURY + BAD BRIANS
3. Oktober 2015. Berlin, Spandau
5. September 2015 Berlin, Clash
RUTS D.C. + BAD BRIANS

04. Juli. 2015 Freiburg, Walfisch
BAD BRIANS
03. Juli 2015 Bregenz, Between
BAD RIANS, Chelsea Deadbeat Combo (CH)
19. Juni. 2015, Berlin Cassiopeia RECORD RELEASE + 10 JAHRE CASSIOPEIA!!!
very special guest: The Peoples Front Of Judea! (West Banks) Und weitere very special guests & friends!!!!!!!!!!!
1. Mai 2015 Berlin, Kreuzberg
MyFest, Coretex Bühne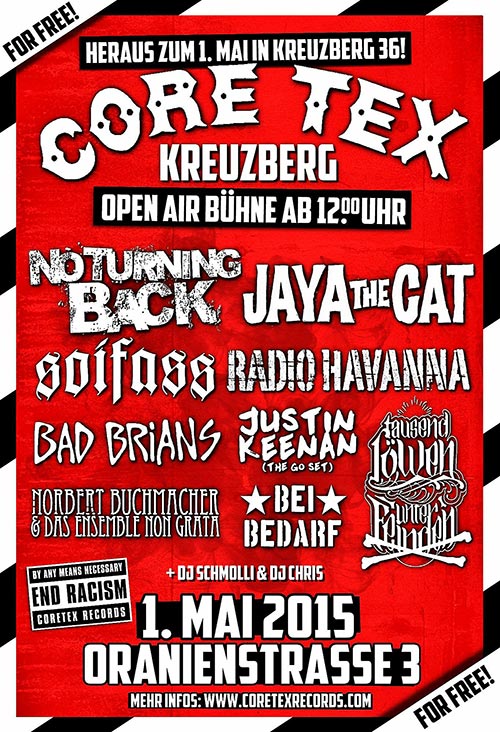 25. April 2015 Berlin, Potse
BAD BRIANS, Analkommando, Crour Hilla
18. April Berlin, TWH
Namenlos, Kaltfront, BAD BRIANS
27. Dezember 2014, Berlin Huxley´s
TAXPACK, DISCIPLINE, BAD BRIANS

02.November 2014, Berlin Cassiopeia
HARDCOREFEST
16.September. Berlin, Comet
NEGATIVE APPROACH + Bad Brians
12. August 2014 Berlin, SO 36, 36 Jahre SO36
BAD BRIANS, Brutal Verbimmelt, Sleim

26. Juni 2014 Berlin, Culumbiaclub
MARKY RAMONE´S BLITZKRIEG + Bad Brians
21. Juni, Berlin 2014, Franken, Fete de la Musique
BAD BRIANS
14. Juni Berlin 2014, Rambler´s Ballroom
BAD BRIANS, The Runaway Brides
11. Januar 2014, Berlin, Werk 3
BAD BRAINS + support
28. September 2013 Freiberg, Dipol
BAD BRIANS
14. September 2013 Dresden, Chemiefabrik
BAD BRIANS
07. September 2013 Berlin, Rumblefest
BAD BRIANS, Cherry Bombs, Absturz, u.a.
27. Juli 2013 Force Attack
(so Gott will...)
12. Juli 2013 Berlin, SO 36
ADOLESCENTS !!!+ BAD BRIANS
06. Juli 2013 Hamburg, Lobusch
BAD BRIANS + Ammunation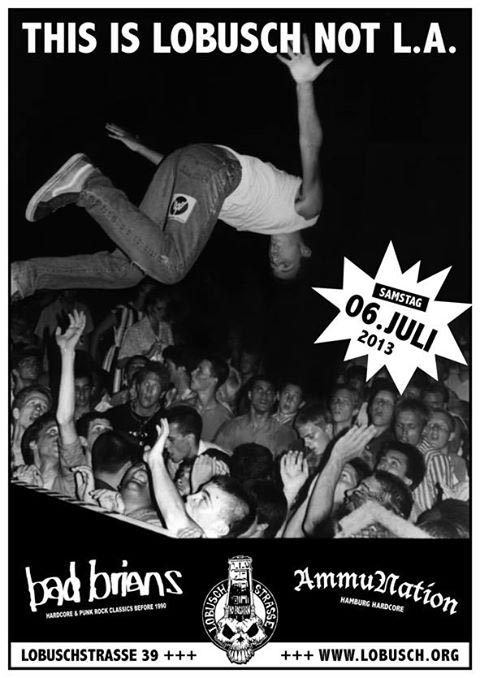 21. Juni 2013 Berlin Cassiopeia
BAD BRIANS, Baretta Love, Killa Instict, Berlinutz


15. Juni 2013 Berlin, WIld At Heart
BAD BRIANS record release mit ilustren Gästen von Final Prayer, Beatsteaks, Toxpack, Skeptiker,
Jingo de Lunch und und und...

1. Juni, Leipzig, Fischladen
fällt aus!
31. Mai, Weisswasser, AJZ Garage
BAD BRIANS, Lord James
1. Mai, Berlin, MyFest, Coretex Bühne
BAD BRIANS, FINAL PRAYER, WALTER SCHREIFELS, u.a.

11.1.2013 Dresden, Chemiefabrik
BAD BRIANS & DJ Howling Eric

15.12.2012 Berlin, Schokolade
BAD BRIANS

26.10.2012 Berlin, Cassiopeia
1-2-3 Repeater (Fugazi Coverband) + Bad Brians


30.09.2012 Berlin, Wild At Hear
Die Bad Brians supporten HARD ONS!!!

12.11.2011 Potsdam, Tumult
Bad Brians

06.11.2011 Rankwei (AT), Bimbos
Bad Brians

05.11.2011 FeldkirchAT), Geburtstagssho
Bad Brians

29.10.2011 Berlin, Cortina Bob
Die BAD BRIANS supporten das Schwesterschiff KEIN HASS DA (Bad Brains mit deutschen Texten)! www.keinhassda.de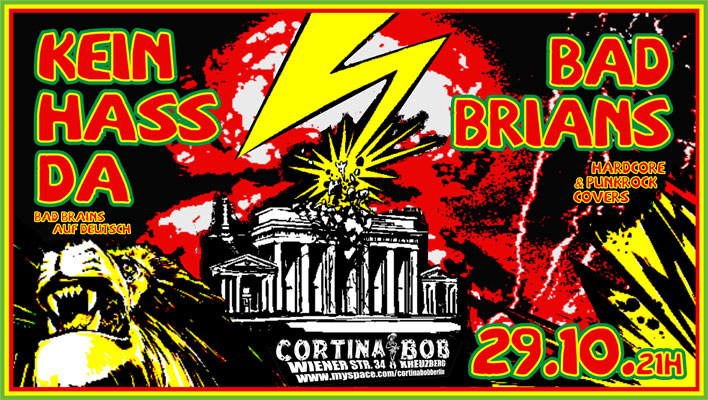 06.10.2011 Berlin, Cassiopeia
Die BAD BRIANS supporten GANG GREEN!!! Tour gecancelt, FÄLLT AUS!

17.09.2011 Berlin, White Trash
BAD BRIANS

07.08.2011 Berlin, Resist to Resist Festival
Mit Total, Chaos, Poppperklopper, Extreme Noise Terror, etc. www.resisttoexist.de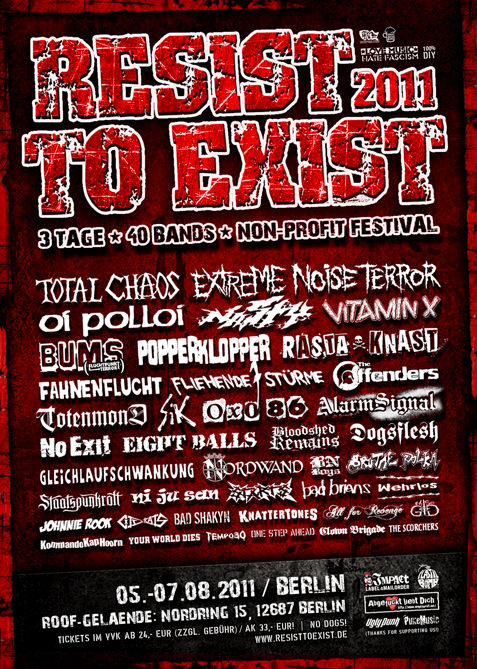 29.07.2011, Berlin, Astra
Die BAD BRIANS supporten JELLO BIAFRA and the Guantanamo School of Medicine!!!

11.06.2011 Berlin, Cortina Bob
Die BAD BRIANS im Doppelpack! Wir spielen 2 Sets, keine Vorband!

01.05.2011 Berlin, Cortina Bob
MyFest mit den BAD BRIANS! im Vorprogramm: Pussy Mouskouri

23.12.2010 Berlin, Wild at Heart
BAD BRIANS

03.12.2010 Berlin, Schokoladen
Dead Kennedys Cover-Konzert mit BAD BRIANS und diversen Bands...


06.11.2010 Berlin, Potse
BAD BRIANS, Tempo 30, Pizza oder Pommes



06.05.10 Berlin, White Trash Fast Food
BAD BRIANS supporten D.O.A.!!!

18.12.09 Berlin, Wild at Heart

mit VERY SPECIAL GUESTS! Endlich wieder Wild at Heart!
Wir spielen 2 Sets und werden ein paar lange nicht gehörte Klassiker spielen!
Es werden einige very special guests zusammen mit den Brians Mikrofone und Instrumente in die Hand nehmen!!!



10.12.09 Berlin, El Lokal
mit BURN FLAG


30.10.09 Köln, Sonic Ballroom
BAD BRIANS, The Spines

11.09.09 Großenhain, Conny Wessmann Haus
mit BAD BRIANS, RKS, UNITED SHIT, REBECCA & The CUNNINGHAMS, HUNTSVILLE
22.08.09 Pritzwalk, Rock für´n Turm
mit BAD BRIANS, SMOKING HUT ON STONES, SHAW OFF FREAKS, HEADZ UP KING
17.+ 18.07.09 Hamburg, Knust
WELTTURBOTAGE V mit BAD BRIANS, KEIN HASS DA, HIP PRIEST, ADOLESCENTS, DENIM DEMONS u.a.

21.06.09 Berlin, Fete de la Musique, Cassiopeia
5 JAHRE FINAL PRAYER mit FINAL PRAYER, BAD BRIANS, FRONTKICK, MEN WITHOUT GOD u.a.

08.05.09 Berlin, Kato, 20:00
AGENT ORANGE, support: BAD BRIANS

01.05.09 Berlin, MyFest - Coretex Bühne, ab 16:00
mit RAZORS, FINAL PRAYER, BAD BRIANS, THE HEADLINES, LAZY SLOBS, INTERNAL SALV.

07.02.09 Berlin, Schokoladen
SCHOKOCHRIST! Bad Brians vs Dead Kennedys
Support: BURN FLAG (Black Flag Classics)



06.12.08 Berlin, Franken Bar
FRANKENCHRIST! BAD BRIANS vs Dead Kennedys


15.11.08 Berlin, White Trash Fast Food Restaurant
a tribute to the Ramones, an den Decks: Marky Ramone!


08.11.08 Potsdam, Club Charlotte
Brandenburg! Potsdam DC!

23.08.08 Svenemünde, verschoben...

18.06.08 Berlin, Knaack mit MUNICIPAL WASTE


23.04.08 Berlin-Kreuzberg, KÖPI
mit HIGH VOLTAGE (AC/DC Cover aus der Bretagne)

HARDCORE & PUNK ROCK 100 BERLIN TOUR
100 HARDCORE & PUNK ROCK HITS IN 3 TAGEN!

31.01.08 Berlin-Friedrichshain, Cassiopeia
01.02.08 Berlin,-Mitte, Schokoladen
02.02.08 Berlin-Kreuzberg, Wild At Heart, with very special guests apearances:
Yvonne (Jingo De Lunch), Thomas (Beatsteaks), Walter Schreifels (Gorilla Biscuits), Mac (Final Prayer, Gary (Speedmoik) und Olli (Gods Of Blitz)!

16.02.08 Frankfurt a. M., Café Excess
RKL Jason R.i.P. fällt aus!

02.11.07 Berlin, White Trash Fast Food
mit Grubby Things (77Punk/Berlin)


22.9.07 Potsdam WAKE & STYLE TEAM CHALLENGE, Waldbad Templin bei Potsdam

20.08.07 Berlin, Cassiopeia
mit MURPHYS LAW (NYC)! PUNISHABLE ACT fallen aus!

21.06.07 Berlin, Feté De La Musique
Die BAD BRIANS spielen 2 mal!!!
erst PUNKROCKMOBIL mit BAD BRIANS

und BAD BRIANS 20:00 Feuermelder
mit PONDROCS, COLD WAR, ALTARE, MÖNSTER und SITUATIONS!
01. 05. 07 - Berlin, CoreTex
MyFest Achtung! Die BAD BRIANS fallen leider aus!!
Mit PUNISHABLE ACT, WALTER SCHREIFELS, RADIO DEAD ONES u.a.!
15.02.07 - Berlin, Bronx
HC- und Punkrockcovers mit den BAD BRIANS!

22.12.06 - Berlin, Wild At Heart
Die "SILENT NIGHT" mit den den Göttern des lautstarken Punkrocks, den BAD BRIANS! Wir haben uns einiges
neues Material von D.I. (yes!), Dickies, (jou!), D.O.A. (uh), Misfits (endlich!) und Cindy & Bert (!) draufgeschafft und
werden euch in 2 Sets knapp 50 Songs um die Ohren donnern!!! 21:00 Uhr
06.10.06 - Rathenow, Musikbrauerei
30 JAHRE PUNKROCKPARTY, 21:00 Uhr

24.09.06 - Berlin, Cassiopeia
HC-FEST 2006 ab 15:00 mit DROUGHT OVER EDEN, BURY OUR LEGACY, UNITED & STRONG,
THE WORKING DEAD, VOLTRON, MAKE IT COUNT, COLD WAR, WAR FROM A HARLOTS MOUTH
und FINAL PRAYER, Beginn 15:00

15.07.06 - Berlin, Franken
20 JAHRE FRANKEN mit LOS BOMBEROS, PUNK ROCK BOYS, BAD BRIANS (ca.19:00),SLAMTILT,
FRONTKICK, HAVANNA HEAT CLUB, etc.
21.06.06 - Berlin, Feté De La Musique
Feuermelder Bühne, Boxhagener Platz, die BAD BRIANS spielen um 20:00 mit FINAL PRAYER (HC),
MOSKITO SPEZIAL (Punkrock), ROCKIN SLICKERS (Rockabilly) und RADIO DEAD ONES (Street Punk)

12.05.06 White Trash Fast Food - Berlin
mit THE SITUATIONS, 21:00

01.05.06 Trinkteufel - Berlin
mit KUMPELBASIS, FRONTKICK, CUT MY SKIN und FREIBOITER, 18:00

21.04.06 Café Zapata - Berlin
ROCK YOUR BRAINS OUT WITH THE BAD BRIANS!, 21:00
31.03. 06 SO 36 - Berlin
mit ELÄKELÄISET (FIN) und den Wallerts (B)
30.1.2005 Leipzig, Conne Island
wir supporten MUNICIPAL WASTE!